PM Weimaraners




      Of Montana
Dear Fellow Weim Lover,

     So you think you want a Weimaraner!  I trust you have done your homework on the breed or have experience with Weimaraners, and are ready to take on all the joy and all the responsibility of owning one. If so, then the next step is to fill out the short form with your information so that I can get back to you on the availability of a pup. 

     It is my goal to place every pup in a good home, and I know that goes without saying.   So what is a good home?

One who can afford the costs of ownership which include Preventative Veterinary Care, Training, Quality Food, etc.  If these items are not in your budget then it is not the right time to acquire a puppy.

Secondly, a good home has an owner that is Invested in spending time building a good relationship and in training.  Weimaraners are all about relationship!  Weimaraners also need to be challenged and entertained or they get bored and resort to recreational digging, barking, chewing, etc. 

Third a good home has a Safe Place to keep the pup.  A fence yard is a must!  Our Weims are hunters by instinct and can dart in front of a car in a heartbeat in pursuit of a rabbit, bird, or the neighbor's cat. 

Fourth, a good Weim owner Understands that Weimaraner's can suffer from separation-anxiety and plan accordingly.  Unlike some hunting dogs, Weims do not do well being left in a kennel between trips to the fields.  They suffer terribly when they are separated from their human companions. 

     Fifth, a good owner Realizes that the first six months are critical.  They clear their schedule and take time to train the puppy.  They help ensure that their friend will have every chance to become a great companion and learn to live within their home structure.  It simply takes time to housebreak, crate train, and get a puppy through their adolescence stage. 

Sixth, a good Weim owner Knows that some Weimaraners need special dietary consideration.  Many Weims are allergic to grains (such as corn, wheat, barley, ...) but can tolerate rice.  Some Weims are allergic to eggs.  Most importantly it is important that the Weim Owner follow the Weimaraner Club of America's Immunization Protocol.  Failure to do so has at times resulted in serious physical problems or even death.

Lastly, a good Weim home is one that can Tolerate running in the house, horse play, and an occasional accident.  Weims are like children that Never grow up.  Often they will become obedient to a fault but I have Never known of one that was not in trouble at one point or other.  So Weims are house dogs which need some accommodation.  If your home is fancy it is probably not a good Weim home.  Weims get their feelings hurt when they break your favorite item and you are disappointed in them. 

          Now if you are still Interested In getting a Weim puppy I would love to hear from you....Dawna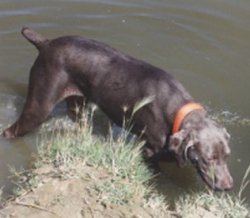 This page was last updated: March 24, 2011